By Jennifer McDougall
Sitting back and watching a loved one spiral out of control is heart-wrenching. The person you once knew has become angry, unstable, and quite possibly irresponsible. We know that you want to help them as best as you can. Without forcing them into rehab, it's better if they see the choice as their own, but that you helped open their eyes to acknowledge a life-threatening problem. Don't wait for them to lose everything before you step in and lend a helping hand. There are many things to expect, as this is not always a comfortable or easy process. Here are a few things to keep in mind before you initiate the conversation to motivate them into the right direction.
The person you love and care deeply about is most likely in denial. They may not believe there is a problem to begin with. It will take time for them to accept the fact that they are on a dangerous path that could be fatal and completely detrimental to everyone involved. They may think they're behavior is normal and since they are alive and functioning there is nothing to discuss. This is where they are wrong and you shouldn't give up persistence on the matter.
Expect volatile and emotional behaviors as this confrontation will be upsetting for them. Try your best not to fuel the fire with more anger. Make your points clear to them in a way that will stop them from yelling after they've screamed at you, told you how wrong you are, and how little you know about anything they are experiencing.
Many of those who are addicted to drugs and alcohol spiral out of control whether it is immediately after being hooked on a substance or gradually over time. They desperately want to grab a hold of something that gives them purpose and fills void. Typically, they feel as though their lives are meaningless and no one really cares what they are experiencing.
Reaching for the bottle or a syringe to get high takes them away from the place they feel unwanted and forgotten. It's painful for everyone involved: the addicted person, the family members, co-workers who witness the destruction, and friends who want to help. The addict may begin hearing that their condition is a disease and they are powerless over their own demons. That is not true. At Passages, we don't believe that addiction is an incurable disease.
We believe in the empowering nature that as humans, we can overcome any obstacle that is put in our way; that if we look at what is causing the problem and focus on healing the underlying conditions then it is absolutely possible to break free and live an addiction-free life.
We believe that those who become dependent on drugs and alcohol do so for the following reasons:
A chemical imbalance
Events of the past you have not reconciled
Current conditions you can't cope with
Things you believe that aren't true
Chances are your loved one is struggling with one or more of these factors. In order for them to overcome their addiction, they will need to enter a treatment center, such as Passages Addiction Treatment Centers where the healing process is focused on treating the underlying conditions. Talking to your loved one may seem uncomfortable at first, but it's important that you don't hesitate as the problem could grow increasingly worse. Here are 7 key points to focus on.
Put a stop to enabling You may not realize it, but you could be making the problem worse by creating excuses for them, or sugarcoating the condition. Be stern about ground rules and the expectations you have for them. Hold them to their promises and commitments. Let nothing slide.

Educate yourself as well as friends and family on everything there is to know about addiction. Start by purchasing a copy of The Alcoholism and Addiction Cure, written by Pax and Chris Prentiss.

Ask questions. Find out what it is that is driving them to use drugs and alcohol as coping mechanisms. Let them open up to you. Listen attentively and make eye contact assuring them that you care and hear what they are saying.

Make them feel loved instead of judged. Avoid using the term "addict" when addressing them. Don't yell or make harsh threats. Try to avoid using phrases that belittle their worth. Instead, empower them and remind them of their strengths, aspirations, accomplishments, and how much they matter to you.

Consider hiring a professional interventionist to conduct an intervention at home or somewhere private.

Provide them with information on treatment centers. Give them brochures, contact information, photos, and enlightening reading material. Talk to them about the many treatment options available for them to get help and put a stop to this brutal battle.

Suggest alternative options for coping with pain, social anxiety, or trauma. Provide them with a list of things to do and give them a sense of hope that things can get better with change. Life doesn't have to be unmanageable or painful. It can be fulfilling and full of life if you're willing to make real lifestyle changes.
Call Passages Addiction Treatment Centers today if you or a loved one is battling an addiction to drugs and/or alcohol. Our admissions department is available 24/7 and can be reached directly by calling our toll-free number at (888) 397-0112. We look forward to speaking with you soon.
Passages, Where Addiction Ends and Life Begins™
Follow Passages Malibu on Facebook, Twitter, and Instagram.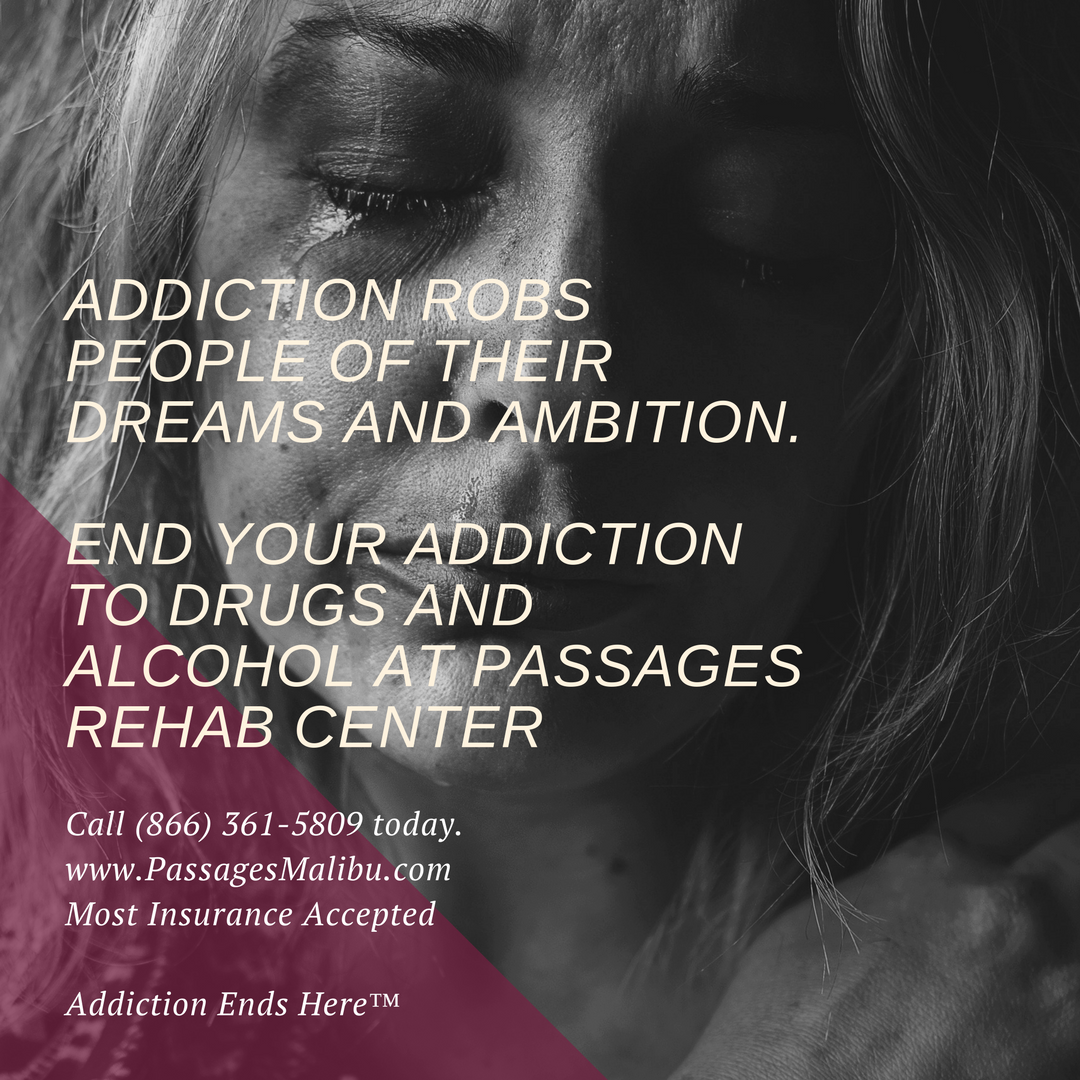 Photo courtesy of Jennifer McDougall