By Jennifer McDougall
Heroin is one of the most addictive drugs on the planet. It is a powerful opiate narcotic that causes lung, liver, kidney, and brain damage as well as an extreme likelihood of transmitted disease, heart attacks, and death. The increasing number of overdoses and deaths are startling and families everywhere are searching to find help for a loved one who is struggling with this difficult addiction. If someone you know is struggling with a heroin addiction, the first thing to do is to talk to them and ask as many questions as you can to help them uncover why it is they feel the need to use this harmful substance to escape from reality. Talk to them and be supportive as best you can. This is a painful process, but there is hope and that's where we come in.
At Passages, We do not believe that drug and alcohol dependency is a disease. Instead, we believe it is the result of one or more of the following four causes:
Chemical imbalance
Unresolved events from the past
Beliefs you hold that are inconsistent with what is true
Inability to cope with current conditions
Detoxing from heroin can be extremely dangerous and we do not recommend that you do it from home. The best possible way to help someone you know who is struggling with a heroin addiction is to get them to a reliable and safe treatment center as soon as possible.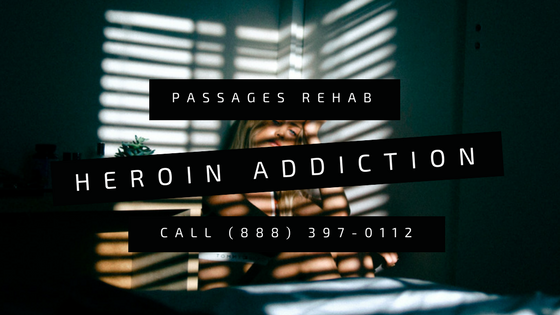 Heroin Withdrawal Symptoms Include:
Insomnia
Anxiety
Diarrhea
Bone aches and pain
Cold flashes
Fever
Involuntary kicking
Suicidal thoughts
Nausea and vomiting
Craving for more heroin
Muscle cramping
Overall discomfort and restlessness
It is crucial that a heroin detox is supervised by a medical professional. At Passages, we offer several different treatment options that best suit the needs of the individual who is currently suffering. It is our job to ensure the safety, confidentiality, and security of every person who enters one of our treatment centers. We know that this is difficult for everyone involved.
What is the Admission Process at Passages?
Free 1-on-1 consultation with an addiction professional
Free Insurance Verification
Confidentiality Guaranteed
Select a customized program with an admissions professional
Arrange date to be admitted
Call (888) 397-0112 to get started
It is our dedicated mission to meet and exceed your every need, inquiry, or request. Get more information about addiction – and get your life back – with Passages. Call (888) 397-0112 today.
Image via StockSnap